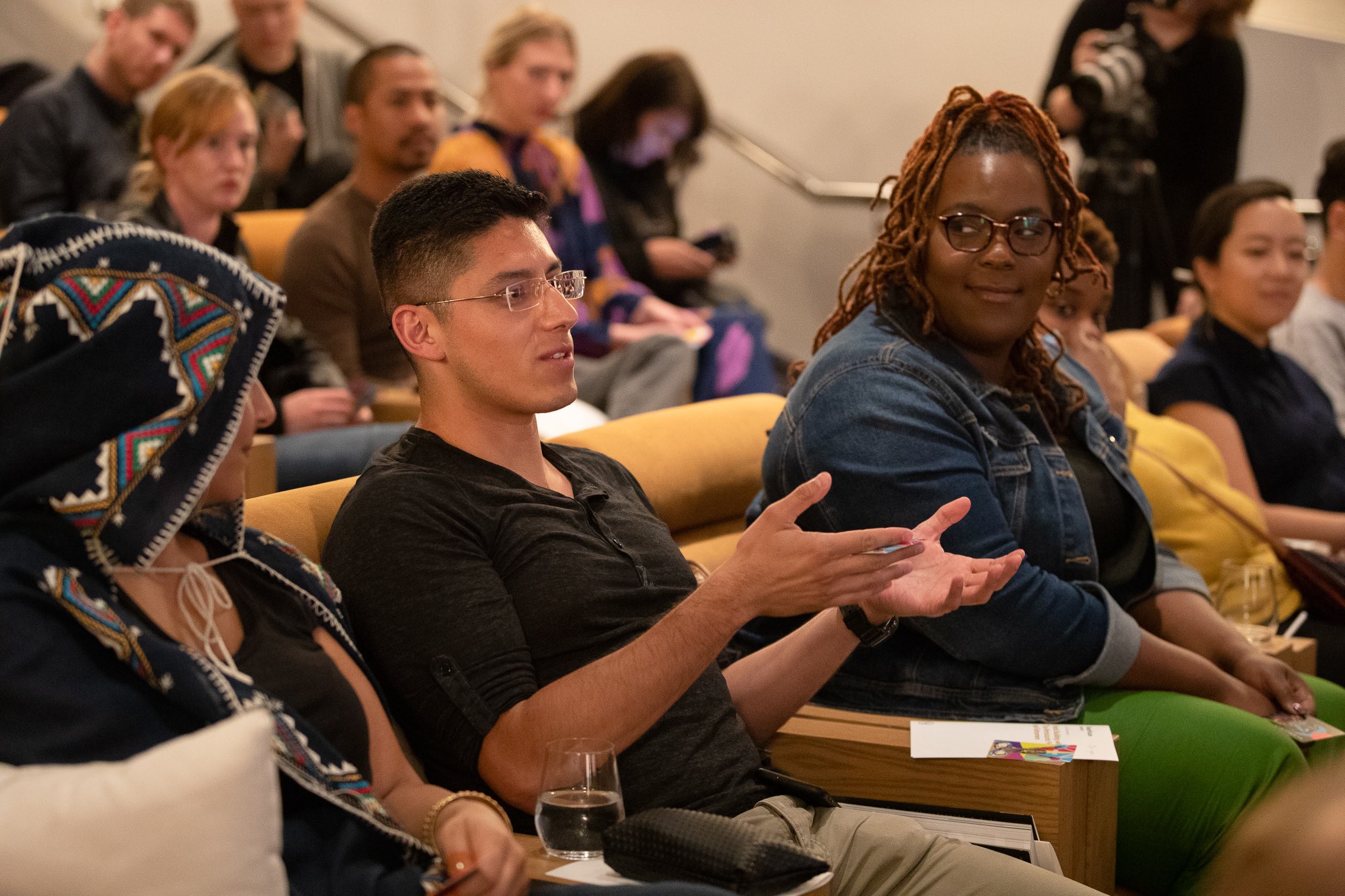 Wednesday, May 22
7 p.m. (doors at 6:30)
NeueHouse Hollywood
Led by AFPC host Ahmed Best, AFPC co-creator Lonny J. Avi Brooks, and game designer Eli Kosminsky, we'll play-test a new game for radical imagining, where the goal is to co-speculate in visions of equitable futures. Anthony Weeks, "the Public Listener," will live-document our progress in graphic form.
This event is free and open to the public. Please join us!
For questions about accessibility or to request accommodation, contact Lacey Wozny at lrw@fathomers.org or 913-669-8705.

Seating is limited; registration is required to attend. Please RSVP here.
"Afro-Rithms from the Future is a futures forecasting tool, but we're going to use it to build a world we want to live in."
— Ahmed Best, Hyperallergic (May 21, 2019)
ABOUT THE PRESENTERS
Ahmed Best is a senior fellow at the Annenberg Innovation Lab at USC; host of the Afrofuturist Podcast; CEO of BISN Media; and a writer, director, producer, actor, musician, and futurist. A founding member of the acid jazz group the Jazzhole, in New York, he starred in the Broadway musical Stomp and as the first CGI lead character in a motion picture, as Jar Jar Binks in the Star Wars prequel trilogy: The Phantom Menace, Attack of the Clones, and Revenge of the Sith.

Best is an MFA graduate of the American Film Institute and has received honors including an Ovation Award, an LACC Award, a Stage Raw Award, and an ANNIE award. He is executive producer of Dinner at LOLA (Stop That Bangin Productions/BISN Media) andThe DL Chronicles (GLAAD Award winner for Best Miniseries), as well as creator, writer, and director of science-fiction comedy The Nebula.
Lonny J. Avi Brooks is an associate professor of strategic communication and media studies at California State University, East Bay, where he has piloted the integration of futures thinking into the communication curriculum for the last 15 years. He contributes prolifically to journals, conferences, and anthologies on subjects related to Afrofuturism and forecasting. Most recently, he published "Diverse Alternative Learning Visions 2026-2066: Transforming and Reframing the University as a Lifelong Social Design Lab," co-written with colleague Ian Pollock, in Futures Thinking and Organizational Policy: Case Studies for Managing Rapid Change in Technology, Globalization, and Workforce Diversity. He is also lead co-editor of a Journal of Futures Studies special issue, titled "When Is Wakanda: Afrofuturism and Dark Speculative Futurism," forthcoming in November 2019.
Brooks is co-executive producer and co-creator, with Ahmed Best, of the Afrofuturist Podcast; lead organizer and advisory board member for the Black Speculative Arts Movement (BSAM), in Oakland; and principal leader for BSAM Futures, which aims to publish comprehensive, inclusive and collaborative analyses of contemporary Afrocentric works. He also volunteers as a core member for outreach at Dynamicland.org, a pioneering non-profit dedicated to creating a more collaborative and dynamic computational medium for the long term.
Eli Kosminsky is an educational game designer and developer from the Concord Consortium, a non-profit developing tools for STEM education. He is also one-half of Room and Board Games, a small board-game publisher that launched in 2017 on Kickstarter with Ursa Miner, a game about bears mining honey.
Since moving to San Francisco, Kosminsky has partnered with Lonny J. Avi Brooks to mentor Afrofuturist game jams and develop physical games for forecasting queer and Afrofuturist stories. In collaboration with the California College of the Arts, Kosminsky is also developing In It Together, a climate change game about equitable solutions to sea-level rise in East Oakland. He holds a bachelor's degree from the Massachusetts Institute of Technology, where he spent several years at the MIT Education Arcade.
Anthony Weeks began working as a public listener and graphic facilitator in 1998. Over the course of his career, he has worked nationally and internationally with leaders, product developers, and strategists to facilitate dialogue and ideation, think visually, and turn data into stories.
Weeks's documentary films have been screened in the United States and around the world. He was a 2009 grant recipient from the Princess Grace Foundation in New York/Monaco. He was honored with an Emmy and a student Academy Award for his 2010 documentary short, Imaginary Circumstances. In 2011, Weeks was one of several American film directors selected by the US State Department to travel to embassies and consulates abroad as part of the American Documentary Showcase, a cultural exchange program.
He holds an MFA from Stanford University, a master's of social work from Augsburg College (MN), and a BA with honors from Grinnell College. He was a 1997-98 Coro Fellow in Public Affairs.